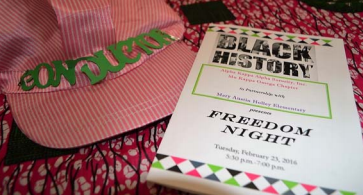 On Tuesday, February 23, 2016, over 260 student participants celebrated Black History at Holley Elementary's 1st Annual Freedom Night! The students were able travel along the "Underground Railroad" to learn about the history that helped slaves escape safely to freedom. The Choir, consisting of 3rd, 4th, and 5th grade students, opened the program with two musical selections before the exploration began.
As sponsors of this event, the Mu Kappa Omega Chapter of Alpha Kappa Alpha Sorority, Inc. served as conductors along the Underground Railroad, taking participants to each "station" and eventually to safety! The stations for the evening included: the importance of Freedom Songs and Spirituals, led by Kristine Trigg, music teacher at Holley Elementary; traditional African drumming, led by Samuel Dinkins III of Dinky Drum Company; storytelling, facilitated by Elaine Moseley, member of the Mu Kappa Omega Chapter of Alpha Kappa Alpha Sorority, Inc., Sharon Autry, teacher at Holley Elementary; and Freedom Quilts as maps, led by Joyce Lowe, volunteer.
Participants were also allowed to share what freedom meant to them on Holley's "Share Your Freedom" wall. Every attendee received a free book, pencil, diversity bracelet, and mini freedom quilt (created by MHE's Art Club) as souvenirs of Freedom Night.