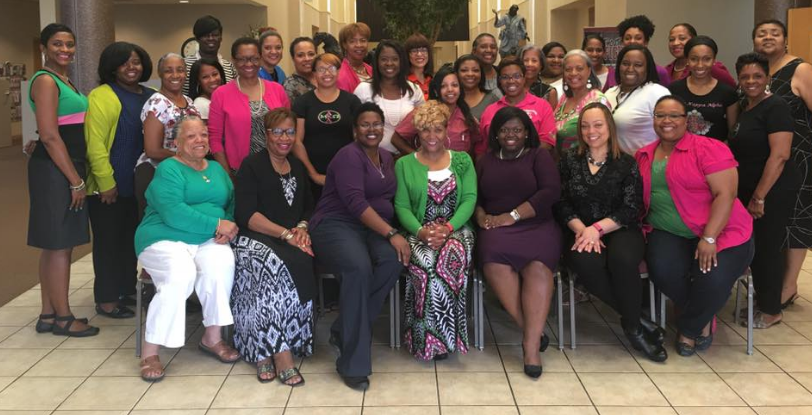 "The Longest Day" honors the strength, heart and endurance of those facing Alzheimer's disease. Held annually on the summer solstice, the duration of this sunrise-to-sunset event symbolizes the challenging journey of those living with the disease and their caregivers. Mu Kappa Omega members were charged with creating their own experience and participating in an activity to honor someone facing the disease.
On Monday, June 20, 2016, Mu Kappa Omega members dedicated one hour to engaging in physically- or mentally stimulating activities like Zumba, running, yoga and prayer, to name a few. Members also shared information on the ten warning signs of Alzheimer's disease with co-workers, family and friends. Additionally, Mu Kappa Omega partnered with the Alzheimer's Association and the Alzheimer's Ministry at Brentwood Baptist Church to host a "Care for Caregivers" event focused on catering to caregivers who give so selflessly to their loved ones. The Regional Outreach Coordinator for the Houston and Southeast Texas Chapter of the Alzheimer's Association delivered a presentation on effective communication strategies.
Mu Kappa Omega members in attendance helped caregivers relax and make scented bath salts, decorative picture frames and stress balls. Members also provided hand massages, led chair yoga and prayed for the caregivers in attendance. Lastly, this event provided the opportunity to raise funds to fuel the care, support and research efforts of the Alzheimer's Association. We raised $160.00 for the cause.
Currently, there are over 5 million Americans living with Alzheimer's Disease, and those numbers are expected to triple by 2050. It is imperative that we promote greater understanding of the disease and its symptoms so that it can be detected and treated early.